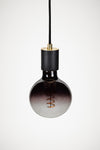 Oku fixing charred + Udo bulb
Shipping calculated at checkout.
Handmade In our Bristol workshop the Oku pendant fixture is a celebration of ancient Japanese craft. Turned from oak the Oku pendant fixture (Oku meaning oak in Japanese) then undergoes charring by us. A light oil is then added to protect the wood and give it it's distinctive finish. It is sold here with our beautiful Udo bulb which has a beautiful LED filament and faded smoked effect. 
 The Oku pendant fixture is also available in a smoked and white oak finish.
 For more information about our products and how to take care of them please visit the Care Instructions part of our site. 
Features
- Handmade in the UK (Bristol)
-Charred oak finish 
-Dimmable E27 bulb 
-3 Meter long cotton cable length
-Hand stamped Alex Price brass detailing 




Dimensions & Specifications
| | |
| --- | --- |
| SKU: | OKU-FX-BK-IM |
| Warranty: | 1 Year |
| Finish: | Charred oak / Brass |
| Ceiling rose: | Yes / Black  |
| Cable length: | 3 meters  |
| Pendant Dimensions | |
| Bulb type / Included? | E27 / Yes |
Technical information 
Light bulb type: LED
Shape: Udo
Fitting: E27
Width: 125 mm
Length: 172 mm
Volt: 220/240V
Watt: 5W
Energy class: G
Light color: 2100 K
Lumen: 170 Lm
Dimmable: Yes
Our bulbs with straight filament can work with all DIMMERS (TRIA or IGBT), while for curved filament bulbs, IGBT dimming is highly recommended.
For the choice of the dimmer: in addition to the maximum power of the user, the minimum power must also be considered, because when the regulated power is lower than the minimum rating, the user can "flicker" and / or be damaged.
Delivery & Returns 
Delivery to mainland UK is Free. We aim to ship within 8-10 days. 
For returns please visit our Delivery & Returns page.